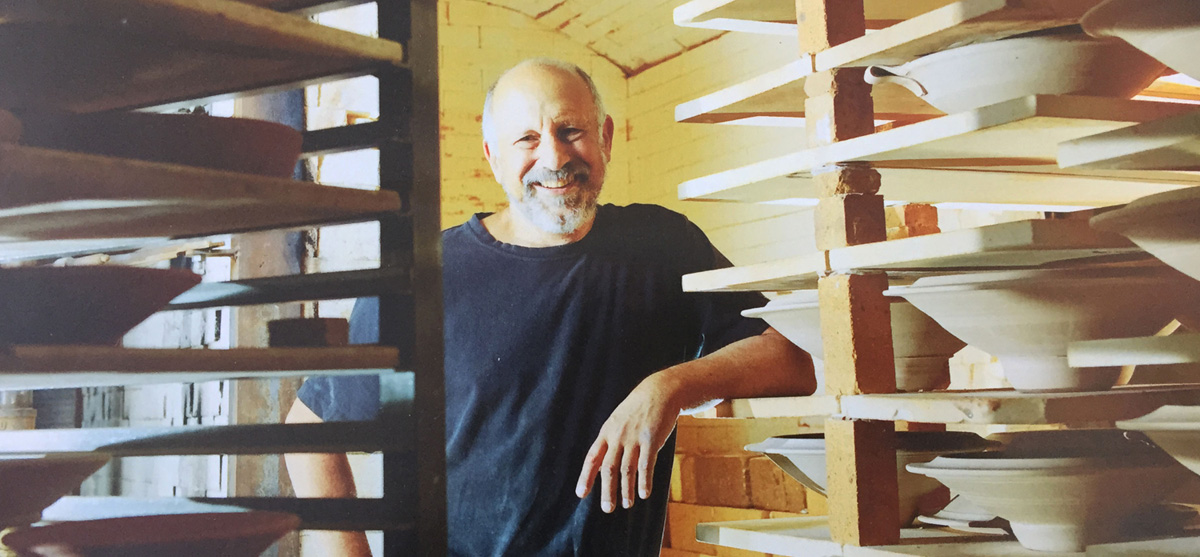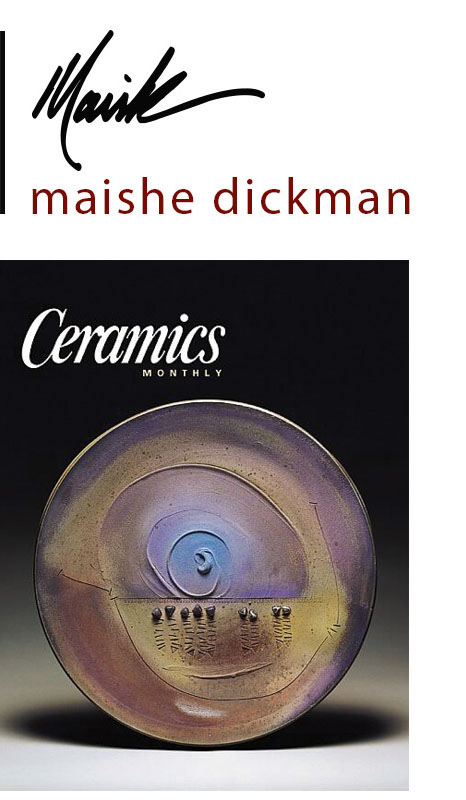 Download Article
AWARDS
1997–Present, Studio Pottery Network Advisory Board
1990 Master Craftsman of the Year
JURY COMMITTEES
1987 ACC Craftfair, Baltimore, MD
1986 WBAI Holiday Craft Show, New York, NY
1984 Northeast Craftfair, Springfield, MA
1983 Morristown Craft Market, Morristown, NJ
COLLECTIONS
1989 Miles Pharmaceuticals, West Haven, CT
1988 Mountain Bell, Denver, CO
1988 Spalding Corp., Holyoke, MA
1987 Greenwich House Pottery, New York, NY
1986 Dansk International, Dinnerware Design
1985 Noyes Museum, Oceanville, NJ
EDUCATION
1970 B.S. Industrial Design, University of Bridgeport
EMPLOYMENT
1997–Present, Yale University Peabody Museum, Exhibit Construction/Museum Preparator
1990–1997 Yale University Art Gallery,
Museum Preparator
Previous, Dansk International, Dinnerware Designer
TEACHING
Wesleyan Potters, Creative Arts Workshop,
Yale University's Dept. of Anthropology
GROUP EXHIBITIONS
1990 Neiman Marcus, Fort Lauderdale, FL
1988 San Angelo Museum of Fine Arts,
San Angelo Tile Show, San Angelo, TX
1984 The Works, Philadelphia, PA
1982–2012, ACC Baltimore Craft Show, Baltimore, MD
Various: Old Church Cultural Center, Demarest, NJ
Various: Guilford Craft Show, Morristown, ACC Rhinebeck, NY
ONE PERSON EXHIBITION
2005 Fuller Museum of Art, Brockton, MA
1987 Neiman Marcus, White Plains, NY
1984 Neiman Marcus, Dallas, TX
1982 Greenwich House Pottery, New York, NY
PRIVATE COLLECTIONS
Yale University Art Gallery Directors: Susan Vogel, Mimi Neil Gates & Helen Cooper
Barbara Rockefeller
James Earl Jones
PUBLICATIONS
2004 March Featured Article,
"A Day in the Life" by Dhannon Rhudy
2002 December "Ceramics Monthly" Cover
- Winner of National Competition
SOCIETIES
1979 - Present, American Craft Council
"Maishe Dickman is one of America's best potters."
— Norman and Lila Bacon, Sweetheart Gallery
Maishe trained as an Industrial Designer. He strives to have every piece of pottery both fuctional and aesthetically pleasing. His classic forms and surfaces, inspired by nature, are combined to create finished work calming to the eye and inviting to touch. He loves making pots; and prices them affordably so that anyone who wants to own one of his pieces, can! His work is all stoneware fired in a reduction atmosphere to Cone 10. Most of his work is functional for everyday use, with an occasional one-of-a-kind decorative piece. He works primarily on the potter's wheel, with some pieces utilizing slab construction. All pieces are priced to sell!
MAISHE'S PROCESS
My functional work is described as production pottery. The label production may imply machinery and lots of people on an assembly line. Contrary to the name, with some assistance I make all my pottery myself. Production in my case implies I make many of the same item—a series.
Mugs, bowls, pitchers, etc. are all made in a series. Each by hand. All similar, but different.
I decide what I will make on any given day by a complex series of circumstances. For example, what orders I have and which items are on those orders. My deadline dictates which items I should make first, second, etc. If possible, I make the largest pieces first as they take the longest to dry. Ending a cycle with tumblers and mugs makes sense as they can be dry and ready to fire in a few days. The larger pieces take up to a few weeks. I approach each cycle logically, but there are exceptions. (i.e. how I feel on any given day or perhaps I do not feel like making bowls today, so I might choose to make pitchers or the easiest, plates.)
Lots of factors come into play, but the bottom line is I make what I like. It's good to be the boss. After deciding what I'll make, each piece in the series is carefully weighed out. For example, all dinner plates are made starting with 3 ¾ lbs. of clay. Each plate is thrown on my wheel to 12 ¾" diameter. By eye, the shape is formed to be the same as the ones before and the ones to follow.
All of my production (functional) pieces are approached in the same way. The repetition of making the same item in a series gives consistency to the look and feel of all the pieces in the series. Occasionally, a piece is rejected for having poor lines, thin spot or heavy spot or just a lousy piece. By the same token, occasionally a piece is perfect from beginning to end. When this happens, it is a rush.
The first step in every series is to produce enough work to fill my large reduction gas-fired kiln. Once all the work is dry, the kiln is loaded and fired for the first of two firings. The first firing is called the bisque firing. This firing is done slowly so as not to crack or blowup any of the green ware pieces inside. It is gently fired to about 1650 degrees Fahrenheit. Once the temperature is reached, the kiln is manually turned off. This kiln load of work takes two to three days to cool. At that point all the pieces are unloaded, sorted by item, sanded to remove any sharp edges, waxed – applied to the bottoms (so glaze will not stick) to every piece.
They are now ready to glaze. Checking my orders for the desired glazes to be used, large batches of glaze for each color are made from scratch in my studio. Glazing is meticulous! The thickness of each glaze is measured to an exact specific gravity again for consistency from one cycle to the next. Every piece is then glazed by any one of several techniques: pouring, dipping, spraying etc. depending on which technique works best for the desired look. The glazing is painstaking and takes approximately two weeks to glaze a single kiln load.
Fitting as many pieces as possible into the kiln is labor intensive, as well as challenging. This step (loading) is an art. I am always amazed at how much work can fit into the kiln. Once loaded, the glaze kiln is lit and the firing begins. It usually takes approximately 24 – 26 hours to reach the temperature of 2450 degrees Fahrenheit. The kiln is fired by six gas burners (the gas company loves me). Using a reduction atmosphere (more fuel than oxygen as my balance), the pieces are now finished and the three to four day cooling takes place.
Unloading the kiln is the most exciting part of the process. It is the culmination of eight to ten weeks of very intense work. Once everything is out of the kiln, each piece is checked and sorted out to fill my orders or saved for an upcoming exhibit.
After all orders are shipped out, another cycle will begin.
I love the physical aspect of what I do, the focus necessary to complete a well done series and the sense of accomplishment at the end of a day seeing a table or a rack filled with pieces made that day.